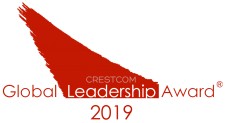 Crestcom International announces winner of the prestigious Global Leadership Growth Award: Liebherr
GREENWOOD VILLAGE, Colo., March 12, 2019 (Newswire.com) - Crestcom's Global Leadership Growth Award is given to just one company or organization each year that demonstrates an extraordinary commitment to talent and leadership development. The culture of integrity, passion, excellence, innovation and continued growth present at every level of the Liebherr organization set them apart from the competitive selection process as a clear winner for this year's award. Crestcom's leadership experts Mark and Patti Hawkins from Excelerate LLC in Virginia have built a relationship with Liebherr's team for the past two years.
"Liebherr's commitment to developing their team is truly inspirational," says Tammy Berberick, president and CEO of Crestcom, an international leadership development organization. "I am honored to name Liebherr and the team as the winner of this year's Global Leadership Growth Award."
Vicki Wishon, Liebherr's HR manager, explained why she chose Crestcom. "The 12-month format was a good fit for us. It breaks the learning into bite-size pieces and allows a supervisor or manager to learn new concepts, have 30 days to put it to work and then have a follow up. The subject matter changes over time and benefits people in that group or people with aspirations to be [in that group], and even experienced managers and leaders find good takeaways from the program."
Liebherr has accomplished an incredible level of growth through their investment in developing their leadership team using Crestcom's internationally renowned Bullet Proof® Manager training program, a 12-month leadership development course. Within the last two years, Liebherr has enrolled 160 participants in Virginia, Texas, Michigan, Florida and California. Using the leadership skills they developed through Bullet Proof® Manager training, Liebherr managers have led their team to become more productive and effective in driving real business results. 
About Liebherr USA, Co.
Liebherr USA, Co., based in Newport News, provides sales and service on behalf of eight different Liebherr product units: Construction Equipment; Mining; Mobile and Crawler Cranes; Tower Cranes; Concrete Technology; Foundation Equipment; Maritime Cranes; Components and the Appliances, which includes refrigerators and freezers.
About Liebherr Group
Established in 1949, the Liebherr Group is today a leading manufacturer of earthmoving equipment and a supplier of innovative user-oriented products and services in many other fields. The family-owned company employs more than 42,000 people in more than 130 companies on all continents. Liebherr's product range covers earthmoving and material-handling machinery, mining equipment, mobile cranes, tower cranes, concrete technology, domestic appliances, maritime cranes, aerospace and transportation systems, machine tools and automation systems as well as high-performance components for mechanical, hydraulic and electrical drive and control technology. Liebherr also operates hotels in Ireland, Austria and Germany.
The Group's holding company is Liebherr-International AG in Bulle, Switzerland, which is entirely owned by members of the Liebherr family.
Source: Crestcom International LLC
Share: